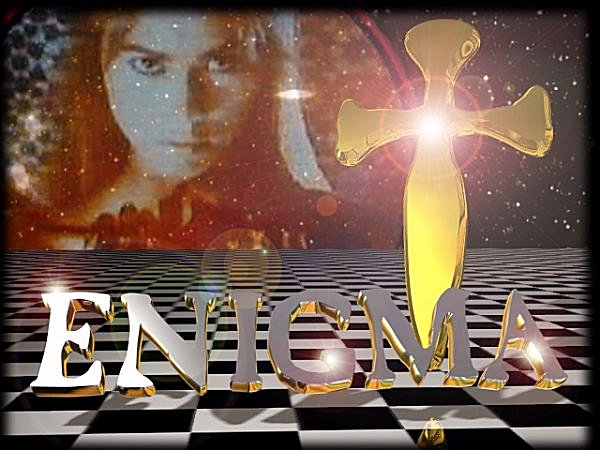 logo designed and contributed by
Leonardo de Brito Andrade
Radio Stations:
Gam's Enigmatic World
Hello everyone and welcome to my Enigma Site. This is different from other Enigma sites because it contains tons of video footage not available anywhere else. This Enigma site was created while I was attending William Paterson University back in 1997. I took a small 3 day course in HTML editing and applied my skills to delivering something that we can all enjoy...Enigma! I'm no pro in HTML so my goal is took keep the navigation simple and basic. For all of you that have been visiting my site in the past you may have noticed that "Gam's Enigmatic World" has moved from gamsworld.com to enigmavideos.com. All this means is that you will hopefully have an easier time locating the site with a simle URL.

MAIN MENU
View My Enigma Collection

Here you will find a complete listing
of all the Enigma CD's, 12" records,
cassettes, and videos I own. I have tons
of them so it is practically complete.
The only CD's I am missing are various
promos and different printings from
different parts of the world. One thing is
for sure...it's safe to say that I do have
every mix! Enigma Videos

This is the place to go if you still
haven't seen all Enigma's wonderful
music videos. The videos are not
small samples but the full lengh version!
There are some full length Sandra videos
as well as other Enigma related
artists. Mood TV

Music video show that
airs only Enigma and related artists.
Presented in Windows Media format. Mood Radio

Sick of all the same crap on the radio?
Feel better now that you
can listen to all your favorite
Enigma songs as well as
Enigma's related artists non-stop all day!. My Homepage

Stop by and visit my main index. For Sale

See what's for sale in the Enigmatic store.

Exclusive Enigma remixes!

Here you will find a complete listing of
all the Enigma tracks that I have remixed.
Selected tracks can be downloaded.
My favorite is all of the Carly's Song remixes. Related Artists

This is the place to go to listen to
other artists that sound similar to Enigma.
You will also find tracks directly related
to Enigma (i.e. Cretu, Sandra).
These groups are discussed frequently
on the Enigma Mailing List
as well as the Enigma Message Board. Enigma Links

My personal choices for the best
information available on Enigma Sign my guestbook

Please take the time to sign my guestbook
and let me know what you think. Read my guestbook

See the entries in my guestbook Old guestbook

Did you sign my guestbook a long time ago
and want to read it? click here
THE ENIGMA